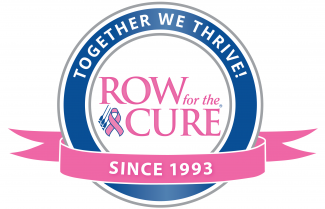 Congratulations to the 100 entries and 14 clubswho participated in the 2022 Row for the Cure
We are pleased to introduce you to a regatta dedicated to making life better for women with breast cancer.
Poughkeepsie, NY
Sunday, June 5th – 6:30am-2:00pm
HRRA Boathouse
270 N. Water Street, Poughkeepsie, NY.
We're thrilled to return this year as we bring the rowing community back to the beautiful Hudson River for a day of fun and friendly competition on the water while remembering, honoring and supporting those near and dear to us.
Entry fees, merchandise proceeds and donations will be awarded to Miles of Hope Breast Cancer Foundation to support local area breast cancer patients, and to Susan G. Komen toward cutting edge cancer research.
Please visit our fundraising page and join with us to make this our most successful event yet.
How you can help:
Register your team at Regatta Central and start planning your costumes.

Start your own fundraising team, and not only race on the river, but compete with other teams to raise the most money.

Pack up the family and bring them along for a fun outing to witness some enthusiastic athletes hauling down the Hudson in crazy costumes.
Many rowers and paddlers are so dedicated to their sport that when Breast Cancer touches their lives, the network of friends in the water community is a natural resource for making a difference. Now all water sport participants have a ready made avenue to make that happen.
All athletes must have a Basic USRowing Membership ($15) and an online waiver completed. If you have already paid the membership under a different club name you must log in to the USRowing portal and add Hudson River Rowing Association to your club affiliations by the first day of practice.
The HRRA code is H9RR4 and the online waiver link is HERE.
HRRA Program and race fees do not include uniform, hotel, traveling expenses, or USRowing membership (when applicable). Athletes are responsible for these additional expenses. HRRA does not provide adult chaperones for unaccompanied minors.